I'm back! and I bring photos! :)
Camping was lots of fun - but then I love 'lazy man' camping - in that we had pop up trailers and lots of stuff and didn't have to haul it anywhere. The campsite was more crowded in that what open area in this little canyon was the 'site' but it was ringed by trees and river and our neighbors were all pretty quiet, so all was good. Also, we arranged the cars and trailers into a semicircle with the river as one side, so we had this one little area to ourselves.
And, I sort of packed wrong. I was expecting a heat wave and for it to be extremely hot - as in record-breaking heat wave. But actually, it was super nice during the day, and chillyish at night/morning. At the beach it was foggy/overcast and sunny at the same time. I needed more half length sleeves and less tank tops. Oh well.
I got a sunburn on the 1st day on my feet, because it was so overcast/foggy, that I was running around in bare feet on the sand that I forgot to put sunscreen there. Yes, I can get burned even on cloudy days.
We did a number of short hikes to various waterfalls. I am sooooo out of shape :( ugh. But the scenery was very pretty and I took a number of photos.
Pfeiffer Beach. Where I got the sunburn. Very pretty beach with sea stacks, rolling fog that changed as we were there and a stream to play in for the little kids. It was actually chilly (because of the fog), but bright too. And it was nice that the sand wasn't so hot and was actually cool to walk on.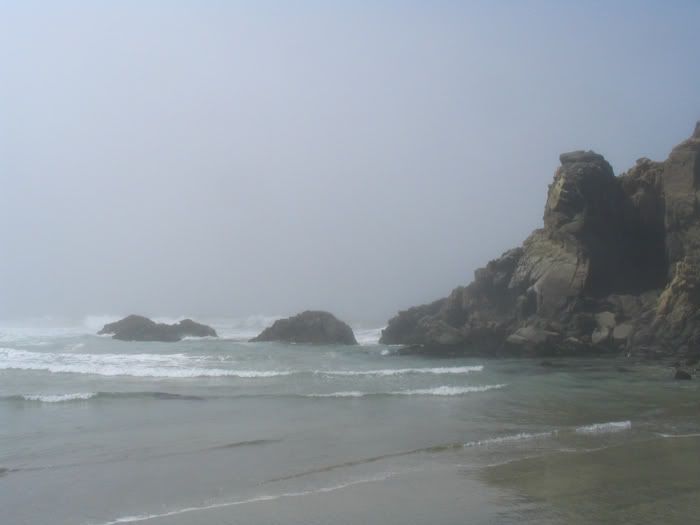 ( more photos - beaches! Trees! Coast! More coast! )